Ketchen's Kindergarten has reached 50 followers and is giving away a $25 gift card to Target - one of my favorite stores. Click on the link below and see how you can win.
Mrs. Browning over at Darlin' in First is having a give away too. Be one of her 3 lucky winners for a choice of a necklace, Scentsy Wickless Candle (love, love), or a Thirty-One Bag!
Elisabeth over at Twins, Teaching and Tacos is Giving Away 2 copies of her Soil Unit. This is a must have for me as we will be studying Soil, Rocks, and Plants before long.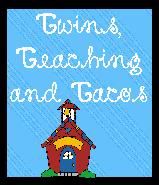 Rebecca at Teaching First and a few of her friends have teamed together to give away 9 packets! WOW! This offer ends January 21st, so hurry on over! Click below: