Hello out there in blog land.
I just LOVE my new blog design.
McKenna over at Project 3 Designs created this amazing blog. She was in contact with me throughout the whole process and was willing to make as many changes as my little heart desired.
Please go check her out @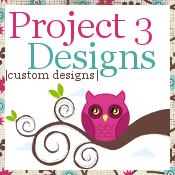 Also, please say a little prayer for me. I just went back last Thursday to have stitches removed from my gum surgery. Then, I was hit 2 a.m. Sunday with a kidney stone measuring 5.5mm. I had a stent put in yesterday and will have the stone blasted Thursday. If that works, I should be better by next week. If not, I will have to have another surgery to remove the stones next week (workdays). That would mean I would miss some work @ the very beginning of school.